SunTunnels by Velux
Bright­en a space and save on your ener­gy bill!



The Velux Sun Tunnel™ Tubular Skylight
Tubu­lar sun tun­nel sky­lights that bring bright nat­ur­al sun­light to any room!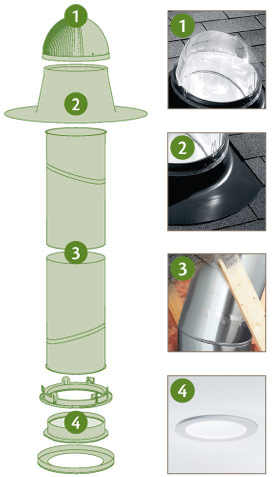 1. ROOF DOME Severe weath­er model1 UV-Resis­tant poly­car­bon­ate dome with patent­ed optics trans­mits max­i­mum nat­ur­al light.
2. LEAK-PROOF ROOF FLASHING Spun alu­minum flash­ing cov­ers most roof pitch­es and mate­r­i­al types, bring­ing bright nat­ur­al light to any room.
3. TWO 15" ADJUSTABLE LIGHT TUBES Tubes are joint­ed to rotate up to 45° for ease of align­ment. Mir­rored inte­ri­or fin­ish reflects max­i­mum light. Exten­sion kit avail­able for instal­la­tions greater than 28".
4. CEILING TRIM RING AND DIFFUSER Inte­ri­or ceil­ing trim ring snaps over the low­er tube for an air-tight seal. The low pro­file dif­fuser attach­es to the trim ring with a sim­ple turn. Easy to remove for clean­ing.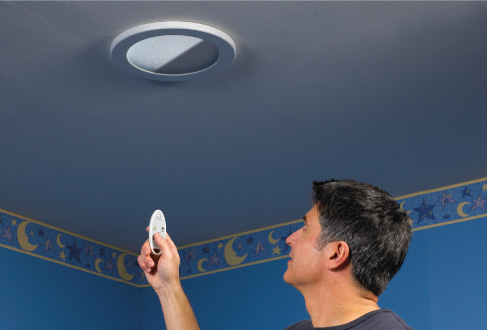 The Solar Pow­ered Dim­mer for Sky­Tube gives you the abil­i­ty to con­trol nat­ur­al light pro­vid­ed by your Was­co Sky­Tube and allows you to install tubu­lar sky­lights in rooms like bed­rooms, nurs­eries and media rooms.
Green Friend­ly — Pow­ered by a solar pan­el and four(4) recharge­able Ni-MH bat­ter­ies;
Easy to use — Three-but­ton remote opens, clos­es and stops dim­mer at any point in oper­a­tion allow­ing full light con­trol and turns the night­light on and off;
Increased tube place­ment — Allows tubes to go in rooms like nev­er before – bed­rooms, nurs­eries, and media rooms;
Flex­i­ble — Unlim­it­ed adjusta­bil­i­ty of light out­put and the 2‑

LED

night­light fea­ture offers soft, sub­tle light.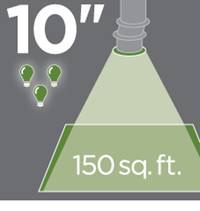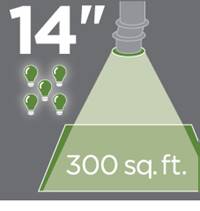 Avail­able in Two Sizes! 10" Sky­Tube lights up to 150 square feet. 10" equals up to three 100 watt light bulbs2 14" Sky­Tube lights up to 300 square feet. 14" equals up to five 100 watt light bulbs2 Units com­ply with Flori­da Build­ing Code includ­ing the High Veloc­i­ty Hur­ri­cane Zone. Based upon full mid-day sun and a 48 inch tube length