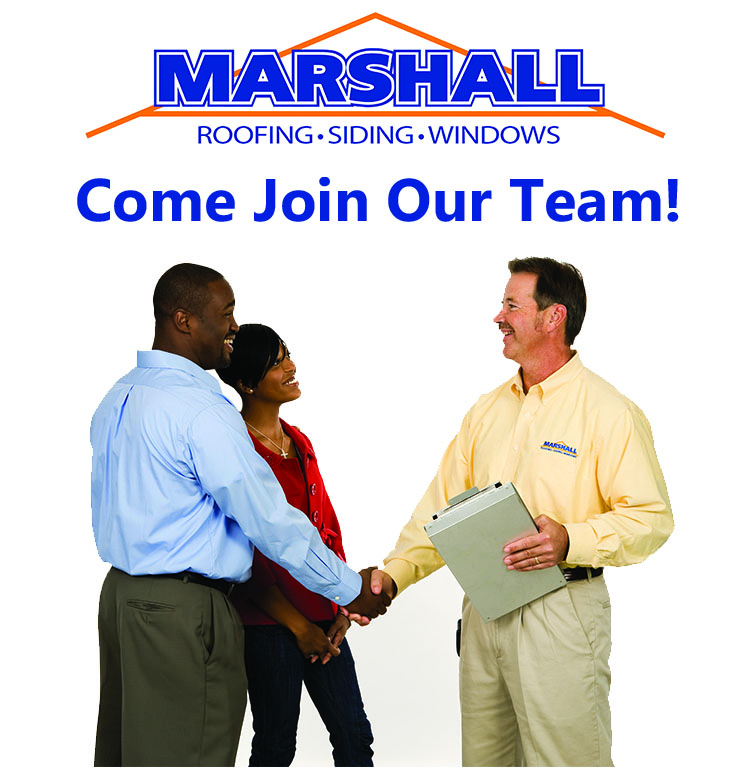 Lead Carpenter/Window Installer
We are look­ing to add anoth­er car­pen­ter with expe­ri­ence as a win­dow installer to our team. This car­pen­ter would be based out of our Man­as­sas or Lor­ton Office depend­ing on where they live. We work all over North­ern Vir­ginia and Mary­land. Com­pa­ny vehi­cle will be pro­vid­ed. Mar­shall Roof­ing is a smoke free com­pa­ny. Smok­ing on job sites or dur­ing work hours is pro­hib­it­ed.
Under the direc­tion of the Ser­vice Man­ag­er the Lead Car­pen­ter is respon­si­ble for iden­ti­fy­ing and cre­at­ing scope of work to fix and repair minor roof­ing & remod­el­ing issues (includ­ing sid­ing & win­dows).
KNOWLEDGE, SKILLS, AND ABILITIES:
• High School Diplo­ma or GED equiv­a­lent required.
• Min­i­mum 5 years in the con­struc­tion indus­try.
• Must have demon­strat­ed skills in car­pen­try and/or roof­ing.
• Must have a valid Dri­ver's License.
• Must have the abil­i­ty to do minor dry­wall repairs, fram­ing, minor roof­ing repairs and inte­ri­or repairs.
• Must have the abil­i­ty to learn, under­stand and apply new tech­nol­o­gy.
• Must pos­sess the abil­i­ty to com­mu­ni­cate pos­i­tive­ly and clear­ly with super­vi­sor, staff and cus­tomers.
ESSENTIAL FUNCTIONS:
• Fol­lows dai­ly sched­ule.
• Reports out job and mate­r­i­al costs dai­ly.
• Reports any cus­tomer con­cerns to Ser­vice Man­ag­er.
• Fol­lows all safe­ty and secu­ri­ty stan­dards and pro­ce­dures out in the field.
• Accu­rate­ly iden­ti­fies issue, cre­ates scope of work and pro­vides that solu­tion to the home­own­er.
• Cre­ates accu­rate esti­mates and ensures cus­tomer receives the com­plet­ed esti­mate no more than 24 hours lat­er.
• Reports to work on time and noti­fies super­vi­sor of time need­ed 30 days in advance.
• Attends all sched­uled staff meet­ings.
• Per­forms oth­er duties as assigned.
WORKING CONDITIONS:
Must have the abil­i­ty to bend and lift up to 50lbs. Must be able to stand for long peri­ods of time; Will have expo­sure to loud out­side sounds and expo­sure to hot, humid, cold and some­times rainy weath­er; some phys­i­cal exer­tion that includes climb­ing.
Please email your resume to rodalyn@marshallroofing.com.