Gutters
&

Downspouts Services

Most home own­ers don't spend a lot of time think­ing about their gut­ters, but under­stand­ing their impor­tance may pre­vent costly home repair bills in the future.

 

Gut­ters fun­nel water off of the roof and away from the build­ing, which pro­tects your sid­ing, win­dows, doors and foun­da­tion from water dam­age. While that sounds impor­tant, many build­ing own­ers don't real­ize how much dam­age can occur when their gut­ters are clogged, leak­ing, or bro­ken. When gut­ters aren't func­tion­ing prop­erly, rain­wa­ter runs off the roof of the build­ing and col­lects on the ground near the foun­da­tion. Heavy rains can result in stand­ing pools of water, which can cause a mul­ti­tude of problems.

 
Gut­ters pro­tect your build­ing from:
Build­ing and base­ment flooding
Ice Dams – Clogged gut­ters pre­vent water from drain­ing – mean­ing the water stays in the gut­ter. When win­ter rolls around, this water freezes. When the water freezes, it nat­u­rally expands – which can pull the gut­ters off the build­ing, crack the building's fas­cia, and dam­age the integrity of the roof as well.
Cracked/damaged foun­da­tion
Infes­ta­tions — Mos­qui­toes and other insects breed in stand­ing water
Mold — over­flow­ing gut­ters cre­ate an envi­ron­ment for mold to flour­ish in crawl­spaces and basements
Ero­sion: Top­soil pro­tects the foun­da­tion of your home. If water is not cor­rectly diverted away from your home the top­soil will erode and leave your foun­da­tion vulnerable.
Stain­ing to the exte­rior of your building's fas­cia, sof­fit, wood fram­ing and out­side walls as well as decks, patios, dri­ve­ways and walkways
Paint dam­age
Rotting/Rusting of exte­rior build­ing products
Dam­age to land­scap­ing — Fungi can dam­age or kill your flow­ers and trees
If the list sounds some­what dra­matic, remem­ber that you don't have to live in an area that expe­ri­ences extreme weather con­di­tions to suf­fer the effects of clogged or dam­aged gut­ters. Con­sider this star­tling fact: experts esti­mate that one inch of rain on an aver­age sized house roof cre­ates about 500 gal­lons of rain­wa­ter runoff. That's a lot of water!
Mar­shall Roof­ing is proud to sell and install gut­ter sys­tems from Englert. For more than 30 years, Englert has been a lead­ing sup­plier of seam­less res­i­den­tial gut­ter sys­tems, acces­sories and roll-forming machines through­out the country.
A pio­neer in on-site roll-forming of seam­less gut­ters, Englert offers a com­plete line of gut­ter prod­ucts, includ­ing: Leaf­Guard Brand gut­ter sys­tems, Rain­Pro Design Series gut­ters, 5" and 6"K-Style gut­ters, 7" Box gut­ters, and leaf pro­tec­tion systems.
Englert's gut­ter coils are strong and durable and come in vari­ety of 14 stan­dard col­ors. All col­ors are coated with Ultra­Cool™ Ener­gyS­tar, and LEED-compliant paint fin­ishes, on Englert's in house paint line which is the newest and most tech­ni­cally supe­rior paint line in the industry.
Gut­ter Fin­ish Warranty
Englert offers a 20-year lim­ited fin­ish war­ranty on all gut­ter mate­r­ial installed by Mar­shall Roof­ing with the under­stand­ing that it will not blis­ter, flake, chip, crack, peel, split, rot, red rust or struc­turally dete­ri­o­rate as a direct result of man­u­fac­tur­ing defects.
Click on the links below to learn about the dif­fer­ent types of Englert gut­ters avail­able from Mar­shall Roofing:
 
 

 
 

 

 
 

K-Style
Gut­ters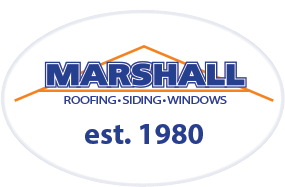 Mis­sion State­ment: Our objec­tive is to pro­vide our cus­tomers with the high­est qual­ity roof­ing, sid­ing, win­dows, gut­ters, and entry door work in the North­ern Vir­ginia & Mary­land areas by offer­ing expe­ri­ence, effi­ciency, high qual­ity prod­ucts, cus­tomized projects, and the best cus­tomer ser­vice. Our goal is 100% cus­tomer satisfaction.
Vision State­ment: Our vision is to be the best roof­ing, sid­ing, win­dows, gut­ters, and entry door replace­ment com­pany in the North­ern Vir­ginia and Mary­land area. Our vision is cen­tered on the cus­tomers' needs and vision of their home.
Core Val­ues: Our moti­va­tion in each project is directed from our core val­ues. Each core value is cen­tered on the cus­tomer and includes: old time val­ues, con­cern for the cus­tomer, offer­ing the cus­tomer the best prod­ucts, and giv­ing the cus­tomer the best price for the high qual­ity products.